Which countries match the population and number of COVID19 Cases of India's States?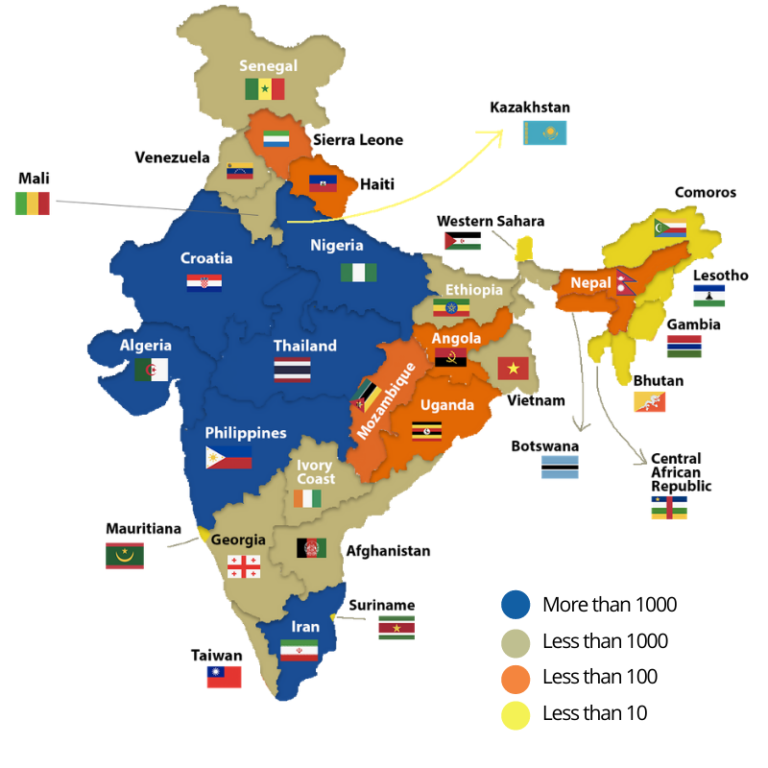 Response to COVID-19 has been dependent on the number of active cases in a country. The aim of all governments has been to flatten the curve and reduce the transmission of the virus.
The Indian states are at varying stages, with 2 of the states in the North Eastern Region still with 0 cases, and others crossing 2000. Health being a state subject in the country, has also seen varying strategies. States showing early stages of transmission, have been adopting strategies encouraging screening/testing, isolation and self-quarantine, whereas in states where community transmission has been rampant, the focus has been to increase capacity of the health system to respond to severe cases. A country such as India, thus, presents 36 (India has 29 States and 7 Union Territories) different contexts and COVID-19 Response Strategy. The map alongside compares Indian States to Countries on the basis of population and number of reported positive COVID19 cases, and presents the opportunity to showcase India as an Innovation hub for diverse contexts.
For example, both Philippines and the state of Maharashtra have crossed 5000 cases, their population density (per sq.km) is similar around 320 and 365 respectively, and also have a similar population count of 109 and 112 million respectively. Similarly, Ethiopia and Bihar have both crossed 100 cases, and have a similar population of 114 and 104 million respectively. Similar comparison on number of COVID-19 Cases, as well as Population has been made in the map alongside.
Source:
COVID-19 Cases- World: https://www.worldometers.info/coronavirus/#news (as of April 23, 2020)
COVID-19 Cases- India: www.mohfw.gov.in. (as of April 23, 2020)
Population- World: https://www.worldometers.info/world-population/population-by-country/
Population- India: Census 2011- https://web.archive.org/web/20180127163347/http://planningcommission.gov.in/data/datatable/data_2312/
DatabookDec2014%20307.pdf